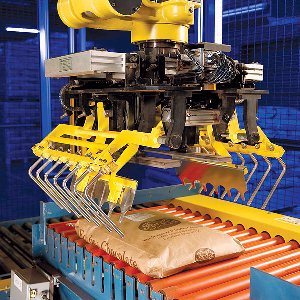 Over the years Packaging Automation Corp has developed an expertise for bulk bag palletizing and material handling. This expertise has developed into a very efficient engineering process and superior product offering. The result of this gives our clients the most reliable and durable system with the most attractive cost advantage. Who are our clients and what are they looking for?
Our clients come from multiple industries- Agriculture (feed, seed, soy bean etc), Bird seed, Sand, Salt, Additives, Powder and Bulk materials.
Our clients deal with multiple challenges – Productivity, finding seasonal labor, safety and workers comp.
Our clients are in the business of packaging their products and getting them to market. They tend not to have plants with major automation. A palletizing system must be reliable, durable and easily maintained.
If you think you're too small, don't have space, or think it's too expensive ...

That is what our clients are looking for and exactly what Packaging Automation Corp delivers. Peace of Mind! Packaging Automation Corp advantage:
Full service Bag Palletizing System solution provider
Set-up and tested at our facility with your product (System doesn't ship until your approval. You can visit for the test or we'll video tape it)
Full line of palletizing and material handling equipment.
2 year warranty.
Packaging Automation Corp employee's set-up and start-up the system at your facility. We don't sub this out like most. This guarantees a quick and easy start up.
Provide the #1 robot (Fanuc) in the world as part of the solution.
Packaging Automation Corp product offering: